About Us
We at Palav Fabrics have created legacy in the Indian textile & apparel sector through our work of unmatched innovation, creativity, progression and growth. Since 1998, we have been serving prolifically as a manufacturer of sarees. Our company has been operating fluently in various parts of country by fulfilling the growing demands of customers in a convenient manner. We have always kept ourselves prepared for the urgent and special requirements of customers and, this has made us one of the most prominent suppliers in the entire domain. Our widely demanded offerings range from Dyed Border Saree, Digital Print Saree, Latest Fashion Saree, Silk Pattern Print Work Saree, Jacquard Border Saree, Dyed Work Print Saree, Weaving Silk Saree, Digital Print Border Saree to many more.
Our industrial processes are handled by a team of 80 professed experts whom we consider as the core strength of our company. In this team, we have designers, technicians, production workers, quality controllers and more who all work together to maintain high productivity on a daily basis. Through their collaborative, transparent, strategic and well-scheduled workflow management, they strive to take customers satisfaction to newer heights on every single deal.
Vision & Mission
The vision of our firm is to attain design excellence through continuous innovation, adherence to new technology and improvement in teamwork & strategies. Our mission is to contribute in the ladies apparel sector by consistently bringing newer-better range of sarees that can potentially set new fashion trends & standards in the respective markets.

Infrastructural Advantages
At Surat (Gujarat, India), we have our ultramodern unit which contains all the world class facilities and resources that are vital for the continuous production of items such as Jacquard Border Saree, Weaving Silk Saree, Dyed Work Print Saree, Silk Pattern Print Work Saree and others. With our sound facilities, we are able to efficiently complete each consignment without any delays in the process.
Our Policies
To keep practicing work approaches for ensuring customers retention.
To keep upgrading our quality of products and services with time.
To keep supplying excellent quality of products nationwide.
To keep generating higher profits and revenues every year.
To keep supporting our employees for learning & growth.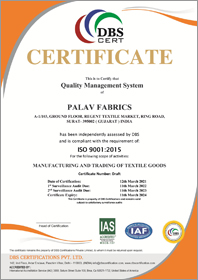 Read More